St. James Families, Please see this message from the City of St. James regarding the declared Snow Emergency. "(Message from St. James Police Dept) The City of St. James has declared a snow emergency which goes into effect at 11:30 p.m. on Friday December 10th, 2021. ALL vehicles must be moved off of city streets by 11:30 p.m. There will be NO PARKING on any street until it has been plowed from curb to curb. Violators will be ticketed $125.00 and towed. Thank you for your cooperation and be safe." "(Mensaje del departamento de policía de St. James). La ciudad de St. James ha declarado emergencia debido a la nieve el cual estará en efecto a las 11:30pm el viernes 10 de diciembre de 2021. TODOS los vehículos deben ser movidos de las calles por las 11:30pm. NO HABRA ESTACIONAMIENTO en ninguna calle hasta que se haya limpiado la nieve de curva a curva. Las personas que violen seran multados $125.00 y el auto sera remolcado. Gracias por su cooperación y mantenganse seguros."

Vaccine Clinic Dec. 14, 2021

Vaccine Clinic Dec. 14, 2021


Good morning, There will be a live link provided 5 minutes before the Northside Holiday Concert for those unable to attend. Please look for that link to be posted to the website and Facebook at 11:55am. Have a great day.

Reminder: There is NO SCHOOL, today, Friday, December 3rd for St. James Public Schools. Have a great weekend.
Las Escuelas Públicas de Saint James no tendrán clases el miércoles 24 de noviembre, el jueves 25 de noviembre y el viernes 26 de noviembre de 2021 debido a las vacaciones de Acción de Gracias. ¡Disfruta de tu descanso y nos vemos el próximo lunes!
Saint James Public Schools will not have school Wednesday November 24, Thursday November 25 and Friday November 26, 2021 due to Thanksgiving Break. Enjoy your break and we will see you back next Monday!
The Open Door Health dentist visit on Friday November 19, 2021 has been postponed, a reschedule date will be posted later.

SJPS first American Indian Parent Advisory Committee (A.I.P.A.C.) meeting will be held in the Armstrong School Board room (500 3rd Ave. S.) on December 8, 2021 at 6 pm. Anyone with American Indian heritage is invited to come and participate in the formation and continued participation of this committee. This includes, students, parents, SJPS employees, and community members. Questions, please email or call Superintendent Heil or feel free to show up to the meeting.

Watonwan Cty. has openings today from 10 am to 1 pm for 5 and above vaccines. Please contact Watonwan County Public Health to schedule an appointment.

Familia Santos, Escuelas públicas de St. James, específicamente niños en edad de primaria, está comenzando a ver un aumento en las pruebas positivas de COVID. A muchas de nuestras familias se les notifica que su hijo estuvo en contacto directo con una persona positiva. Los casos provienen de grupos de iglesias, actividades juveniles, guarderías y algunos se propagan en la escuela. También pasamos 10 días de Halloween, lo que se pusieron espuestos a enfermedades dentro del plazo. Debido a que no podemos identificar un punto de exposición, y estamos viendo muchos espuestos entre las actividades, el Distrito Escolar está pidiendo a los padres de Northside que consideren que sus hijos usen mascarillas durante las próximas dos semanas (10 días escolares) hasta las vacaciones de Acción de Gracias. Al tomar su decisión, recuerde que los niños que usan una mascarilla no se consideran un contacto directo si entran en contacto con una persona positiva que también usa una mascarilla. Además, a partir de hoy, muchas de nuestras estudiantes en las aulas estarán usando mascarillas debido al aumento. Como precaución secundaria, debido al aumento de casos en Northside, no vamos a permitir que Northside asista a la Asamblea del Día de los Veteranos. Quiero agradecerles de antemano por su consideración con las mascarillas durante los próximos 10 días escolares. Con orgullo Santos, Dr. Steven Heil, Superintendente

Saints Families, St. James Public Schools, specifically elementary aged children, is starting to see an uptick in positive COVID tests. Many of our families are being notified that their child was in close contact with a positive individual. The cases are coming from church groups, youth activities, daycare, and some spread in the school setting. We are also 10 days past Halloween, which puts exposure to illness within the time frame. Because we cannot pinpoint one exposure point, and we are seeing lots of overlap between activities, the School District is asking Northside parents to consider masking their children for the next two weeks (10 school days) up to the Thanksgiving break. In making your decision, please remember that children wearing a mask are not considered a close contact if they come into contact with a positive person who is also wearing a mask. Also, starting today, many of our classrooms will be in masks due to the uptick. As a secondary precaution, due to the uptick in cases at Northside, we are not going to have Northside attend the Veterans Day Assembly. I want to thank you in advance for your consideration to mask for the next 10 school days. In Saints pride, Dr. Steven Heil, Superintendent
Students in Ms. Steinle's iHUB class show their artistic ability's!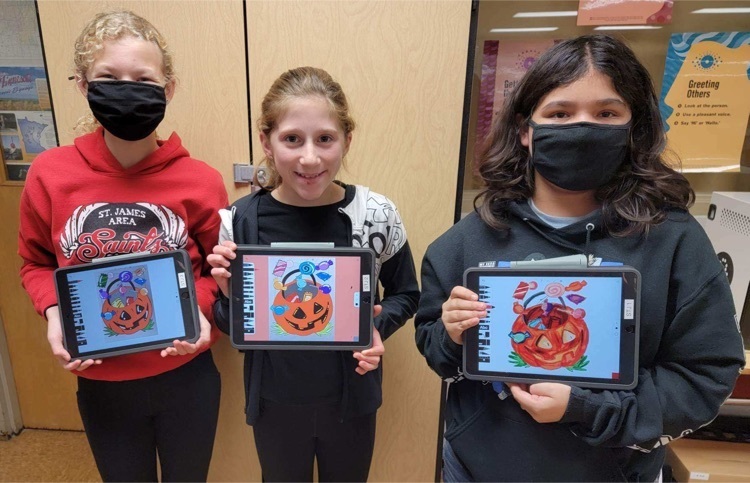 Taher is hiring food service workers.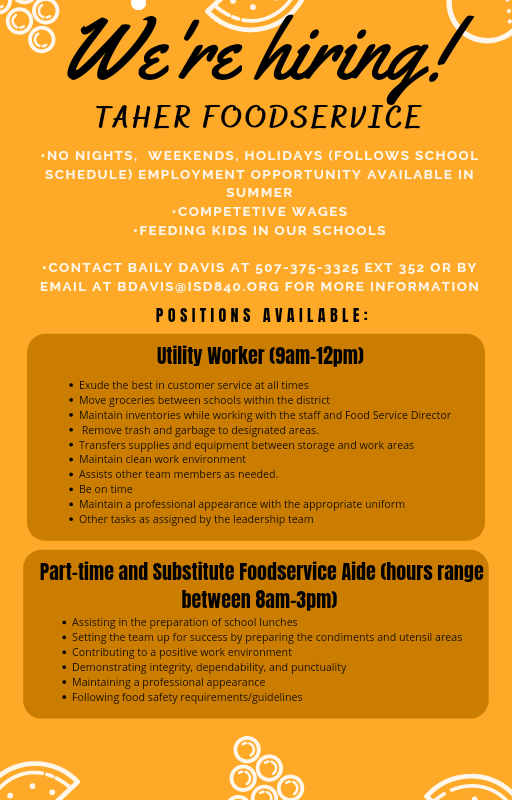 Reminder: There is NO School on Thursday, October 21st and Friday, October 22nd. Recordatorio: NO hay clases el jueves 21 de octubre y el viernes 22 de octubre.

Coat Drive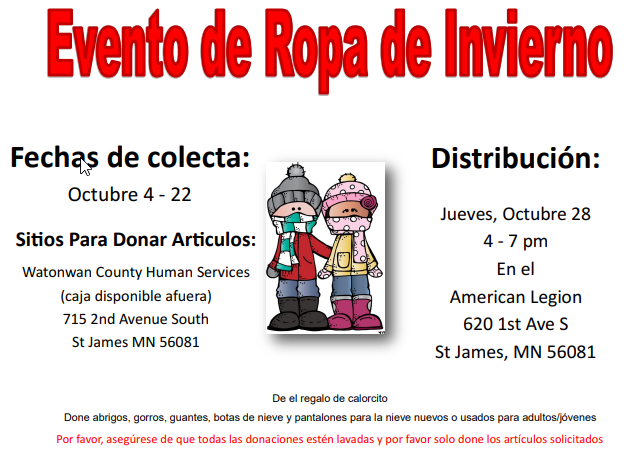 Coat Drive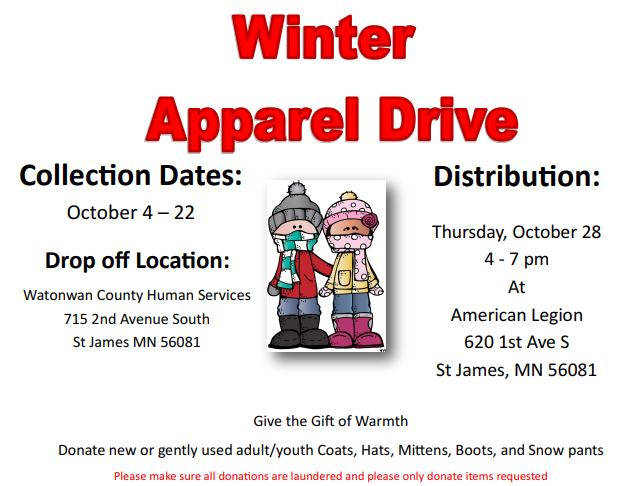 St. James Public Schools Families, Don't forget, Early Release Wednesday's begin tomorrow. On Wednesday's during the months of October through April school is dismissed at 1:45pm.

#NorthsideStJ Homecoming Friday continues with students from Mr. Stark's #StJamesMSHS Advisory class visiting 1st and 2nd grade classrooms this morning with some STEAM challenges! Thank you for joining Northside this morning Mr. Stark and students.